Are you planning a surprise proposal photo shoot in Prague?
If you're looking to capture that unforgettable moment, a surprise proposal photo shoot can make your special day even more memorable. Prague's picturesque streets and historic charm provide the perfect backdrop for such a momentous occasion. In this article, we'll discuss both how to stay unnoticed before taking photos and highlight the best locationsAdditionally, we'll showcase the best locations in Prague, ensuring your engagement photos are set against the city's enchanting and romantic atmosphere.
How will I remain unnoticed? How it works?
1. Initial Contact:
To initiate the process, please reach out to me through the contact form on my website or via WhatsApp. Provide some basic information about yourself, your partner, and any preferences you might have for the proposal photoshoot.
2. Schedule and Location Discussion:
Once I receive your message, we'll have a discussion to determine the date and time for the proposal photoshoot. If you're planning to propose in the city center, I highly recommend scheduling it early in the morning to avoid crowds and capture the essence of the location without interference from tourists.
3. Choosing the Perfect Spot:
Selecting the right location for your proposal is crucial. You can either pick from examples provided in an article or you're welcome to suggest a location that holds special meaning for you and your partner.
4. Coordinating the Proposal:
Once we've agreed on the date and time, I'll share a Google Maps location with you. Please bring your girlfriend to the designated point (for exemple at 8:00am.) This point could be a significant location like the astronomical clock or Charles Bridge. I'll be discreetly waiting at a strategic spot to capture the special moment.
5. Ensuring Coordination and Photography Details:
Prior to leaving your hotel, it's essential to share your real-time geoposition with me through an online broadcast WhatsApp. Additionally, please send me a photo of both of you in the outfits you'll be wearing for the proposal. This ensures that I can easily identify you in the crowd and capture the moment seamlessly.
6. Proposal Moment:
Once you arrive at the specified location, proceed with the proposal, and I will discreetly capture the beautiful moment. After the proposal, we can take a short walk together to capture some candid and celebratory shots.
This straightforward plan ensures a smooth and well-documented proposal experience. If you have any additional preferences or requests, feel free to let me know so we can tailor the plan to your liking.
Which places are best for a Marriage Proposal in Prague?
Prague is a city with a romantic and picturesque atmosphere, offering numerous beautiful locations for a memorable marriage proposal. Here are some popular and charming places in Prague for a proposal:
Old Town Square, Astronomical Clock (Prague Orloj):
The Old Town Square, featuring the Astronomical Clock, is a lively and historic location. The square's ambiance, combined with the clock's intricate design, creates a unique proposal setting
Here are some considerations and tips for a proposal at this iconic location:
Best Time:
Absolutely, early morning can indeed be an excellent time for photography, especially if you're aiming for a more intimate and quiet atmosphere
Charles Bridge:
The iconic Charles Bridge with its stunning views of the Vltava River and the Prague Castle provides a classic and romantic backdrop for a proposal.
Here are some additional details to consider when planning a proposal on Charles Bridge:
Best Time:
Consider planning your proposal during sunrise. The warm hues of the sun, combined with the silhouette of Prague Castle, create a truly magical and romantic atmosphere on Charles Bridge.
Quiet Moments:
While Charles Bridge can be popular among tourists during the day, early morning or late evening may offer quieter moments for a more intimate proposal experience
Vltava Riverbank:
Take a stroll along the Vltava River and propose with the majestic Prague Castle in the background. The riverbank's tranquil atmosphere addsa touch of romance to your special moment.
Best Time:
The best time would be both early morning and evening before sunset
Landmarks along the River:
Choose a specific point along the Vltava Riverbank where you can have Prague Castle prominently in the background. The area near Charles Bridge or the section between Manes Bridge and Jirasek Bridge offers fantastic views of the castle, creating a picturesque setting for your proposal.
Prague Castle:
Within the castle complex, you can find various charming spots, such as the castle gardens or the courtyards, to propose with a stunning backdrop. It also offers views of the red roofs of Prague
Best Time:
Also the best time for photography is early morning and evening before sunset
Locations at Prague Castle:
– Hradčanské Náměstí (Castle Square): This square, located in front of the castle, offers stunning views of the castle itself and the surrounding architecture. It's a central point within the complex and can be a great spot for a proposal.
– Castle Gardens: Consider proposing in one of the Prague Castle gardens, such as the Royal Garden or the Southern Gardens. These green spaces provide a tranquil and picturesque setting, with manicured lawns, flower beds, and scenic views of the city. (Postcards from April to November)
St. Vitus Cathedral:
The cathedral is not only an architectural marvel but also holds great historical and cultural significance. Choosing St. Vitus Cathedral as the backdrop for your marriage proposal adds a sense of timeless romance, as you're surrounded by centuries of history and tradition.
Best Time: Evening Before Sunset or Early Morning:
– Evening Before Sunset: The warm glow of the setting sun casting over St. Vitus Cathedral enhances its architectural features, creating a romantic and ethereal atmosphere. The changing colors of the sky during the evening add a touch of magic to your proposal, making it a truly memorable moment.
– Early Morning: The tranquility of the early morning, before the crowds arrive, provides an intimate and serene setting. The soft morning light can highlight the details of St. Vitus Cathedral, offering a peaceful and private backdrop for your proposal.
Prague Gardens:
Prague boasts several enchanting gardens that provide a picturesque backdrop for a marriage proposal shoot. Here are two notable gardens, along with the best times for capturing memorable moments:
Vrtba Garden (Vrtbovská Zahrada):
Vrtba Garden is a Baroque garden with terraced levels, ornate sculptures, and vibrant floral arrangements. The garden's layout and design create a romantic and intimate atmosphere, making it a sought-after location for proposals and photoshoots.
Royal Garden (Královská Zahrada):
The Royal Garden is a beautifully landscaped area near Prague Castle, featuring elegant statues, charming pathways, and well-maintained greenery. The setting is both romantic and regal, making it an ideal spot for a proposal shoot.
Gardens under Prague Castle (Pálffyovská zahrada, Ledeburská zahrada)
These gardens consist of several terraces, each offering a unique setting. Whether you prefer a secluded spot with a view, a flower-covered archway, or a pathway surrounded by greenery, the Gardens under Prague Castle provide diverse and picturesque locations to suit different preferences for a proposal

*Remember the main thing is that the gardens in Prague are open only from April to November and there is an entrance fee to the gardens
And other popular places in Prague for marriage proposals:

Petrin Hill: This is a peaceful and scenic spot with gardens and a lookout tower. The panoramic views of Prague make it a romantic setting.
Vyšehrad Castle: This historic fortress offers a quieter alternative to Prague Castle, with lovely gardens and a view of the Vltava River
Letná Park: Located on a hill, Letná Park provides a romantic setting with greenery, a beer garden, and panoramic views of the city
Kampa Park: This picturesque island on the Vltava River, located just below Prague Castle, is a peaceful and charming spot for a proposal.
John Lennon Wall: A colorful and symbolic spot, the John Lennon Wall is adorned with graffiti and messages of love, making it a unique and artsy location for a proposal
Dancing House (Tančící dům): This modern and distinctive building offers a unique backdrop for a proposal, especially if you're into contemporary architecture
Prague Rooftop Bars: Consider proposing at one of Prague's rooftop bars, such as the one at Hotel U Prince or the T-Anker Rooftop Bar, for a romantic setting with breathtaking views
Waldstein Garden: Located in the Lesser Town, Waldstein Garden is a peaceful and well-maintained garden that provides a lovely backdrop for a romantic moment
Prague is a city filled with romance and history, making it the perfect location for a surprise marriage proposal photo shoot. By staying discreet and choosing the right location, you can ensure that your special moment is beautifully captured while creating lasting memories to cherish forever. So, get ready to propose in one of the most charming cities in the world, and let Prague's magic set the stage for your love story.
Prices for photo shooting a marriage proposal in Prague

OPTIMAL
200€
90 minutes of photography
Assistance in planning locations for a photo shoot
from 120 originals photos JPG (from 1-3 days after shooting)
45 processed photos (color correction, retouching)
Online gallery 
Photo processing time from 1 to 5 days after your choice
MOST POPULAR!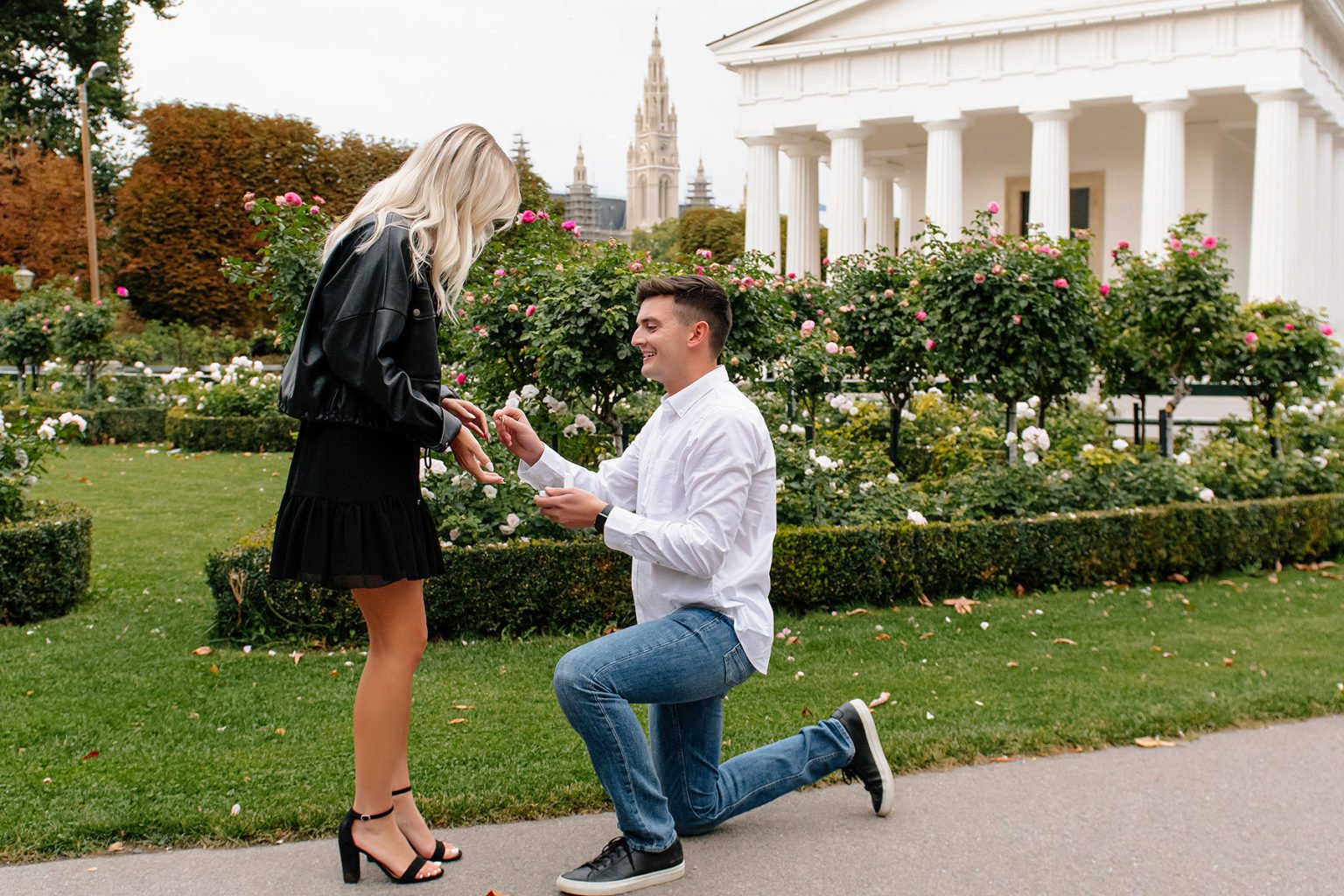 MINIMAL
150€ 
60 minutes of photography
Assistance in planning locations for a photo shoot
from 80 originals photos JPG (from 1-3 days after shooting)
30 processed photos (color correction, retouching)
Online gallery 
Photo processing time from 1 to 5 days after your choice

EXPRESS
100€ 
30 minutes of photography
Assistance in planning locations for a photo shoot
from 40 originals photos JPG (from 1-3 days after shooting)
15 processed photos (color correction, retouching)
Online gallery 
Photo processing time from 1 to 5 days after your choice