Capturing the Perfect Proposal – Engagement photoshoot in Vienna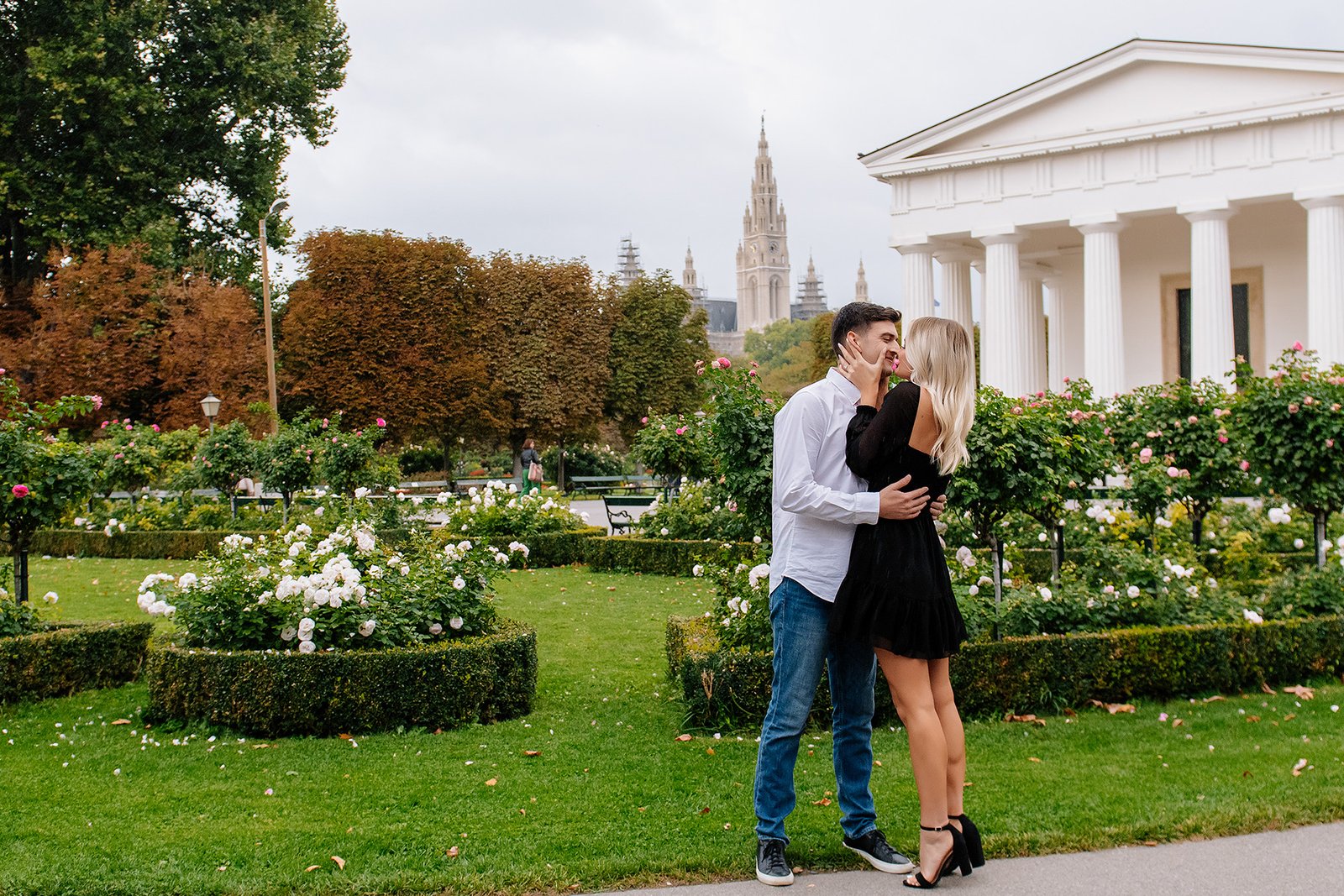 In the enchanting city of Vienna, a tale of love unfolded, weaving a magical moment that would forever change the lives of a couple from America. As fate would have it, I was fortunate enough to be a secret photographer, entrusted with preserving the beauty and significance of this extraordinary occasion.
The stage was set in Vienna, a city known for its rich history and romantic atmosphere. The couple, Eve and Alec, had embarked on a European adventure, unaware that their journey would culminate in an unforgettable chapter of their lives.
As their footsteps echoed along Vienna's cobblestone streets, I discreetly positioned myself, ready to capture the essence of their love story. The warm evening light of the sunset served as the backdrop for what would soon become an indelible memory.
Alec's heart swelled with nerves and anticipation as they reached the exquisite Rosengarten Gardens, an idyllic spot where he had decided to pop the question. In his pocket, a glimmering diamond ring, a symbol of his unwavering love and commitment, awaited its moment to shine.
As Eve gazed out at the stunning panorama of Vienna, Alec took a deep breath, mustering the courage to ask the question he had been longing to utter. With a tender voice filled with emotion, he expressed his profound love for Eve, recounting the moments they had shared and the dreams they had woven together.
Meanwhile, my camera lens captured the raw emotions coursing through Eve's veins: surprise, joy, and overwhelming happiness. It was an instant frozen in time, forever sealed within the frame of my photographs.
As Alec took a step forward, he knelt down on one knee, and with trembling hands, he presented the radiant ring to Eve. In that magical moment, the world seemed to pause, allowing their love to permeate the air.
Eve's eyes welled up with tears of pure bliss, and with a resounding "Yes!" that echoed through the gardens, their love story reached an exhilarating climax.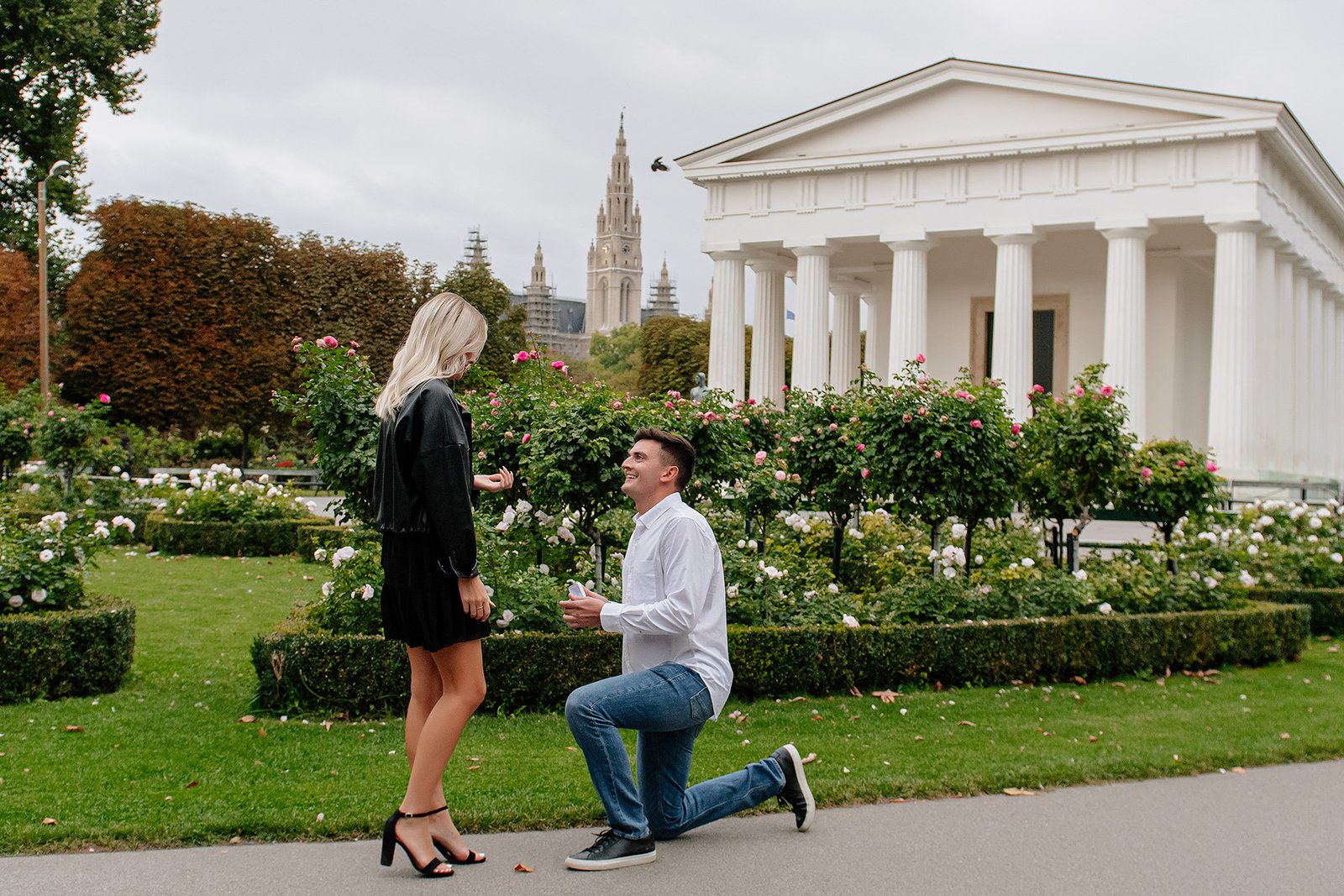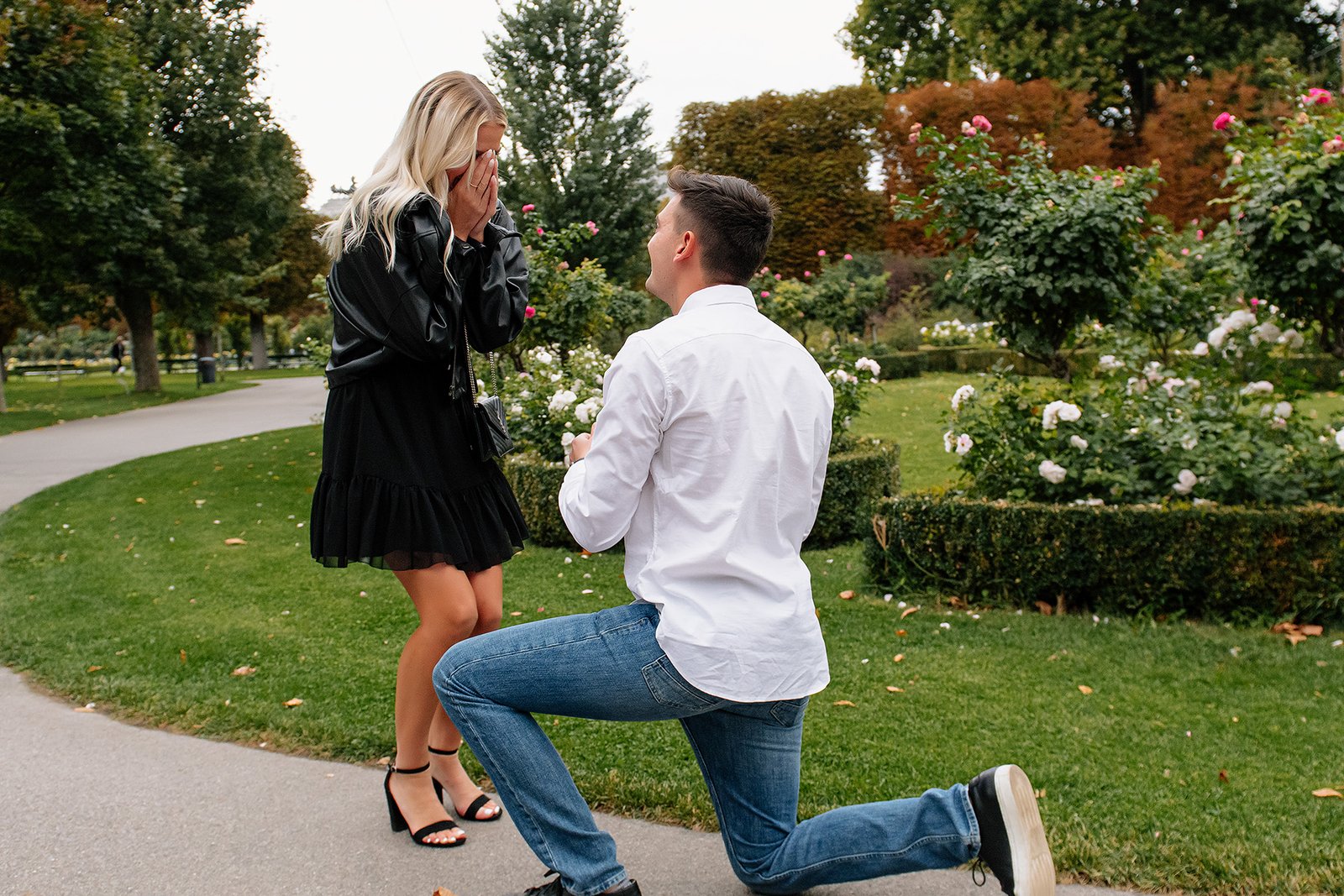 The air was infused with jubilation, and applause erupted from the surrounding crowd, enchanted witnesses to this beautiful display of love.
A huge surprise for the charming Eve was the arrival of her parents in Vienna!
As the newly engaged couple embraced, their smiles radiated a profound happiness, a joy that had no bounds. And in that very instant, I knew that the photographs I had taken would forever be treasured. I captured the true love and connection that blossomed in Vienna.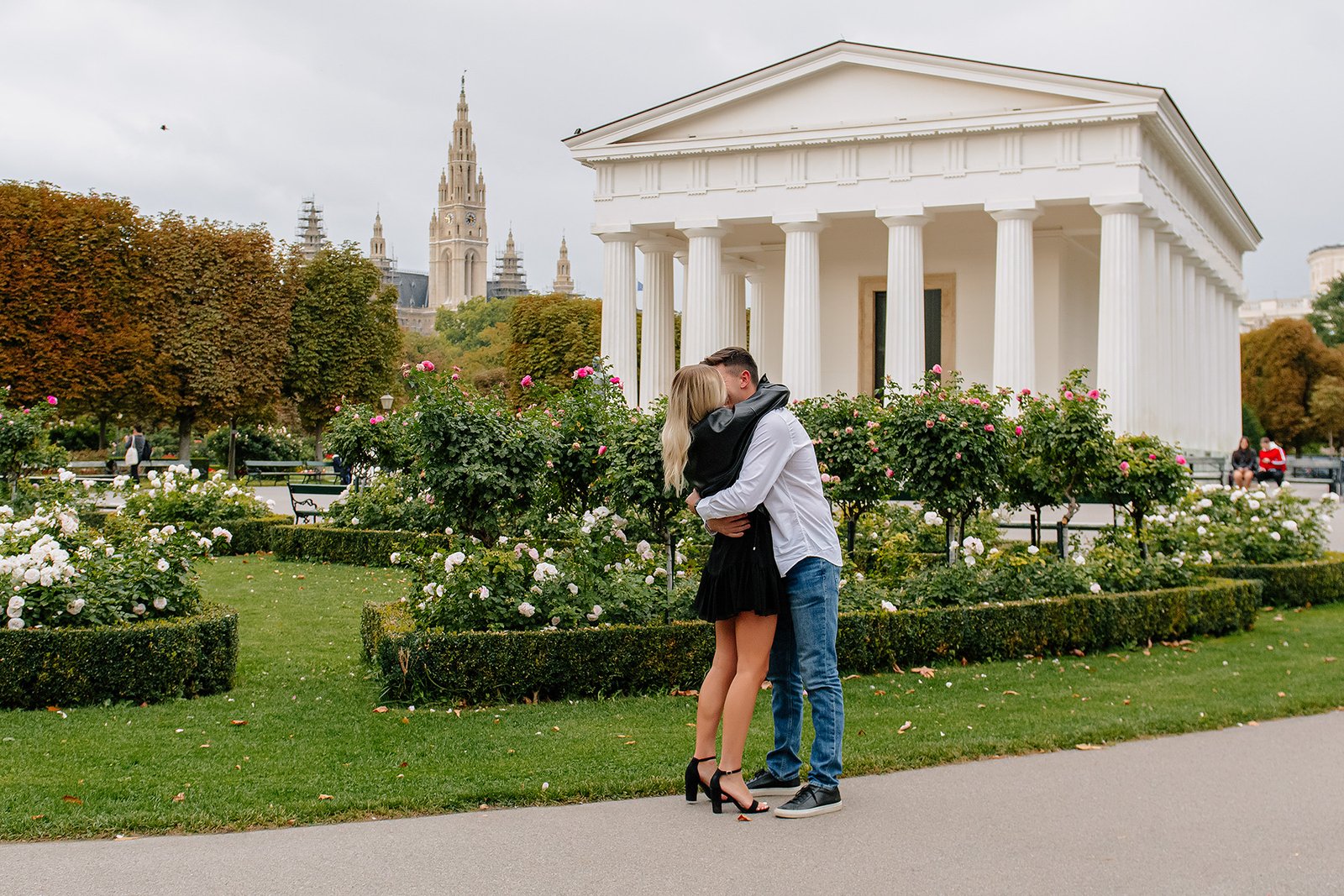 Vienna, the city of music, art, and romance, had become the canvas upon which Eve and Alec had painted a chapter of their love story.
And I, as their secret photographer, had been privileged to immortalize their cherished moment, preserving it as a timeless reminder of the power of love and the beauty of life's unexpected surprises.
As the lights of Vienna shimmered in the distance, Eve and Alec embarked on a new chapter together knowing that their love story had been eternally captured in the frames of their hearts. The photographs that bore witness to their once-in-a-lifetime moment in the City of Dreams
You can write to me directly on What'sApp or Telegram
Prices for engagement photo shoot in Vienna

MAXIMAL
450€
2 hours of photography
Assistance in planning locations for a photo shoot
from 160 originals photos JPG (from 3-10 days after shooting)
60 processed photos (color correction, retouching)
Online gallery 
Photo processing time from 7 to 14 days after your choice
MOST POPULAR!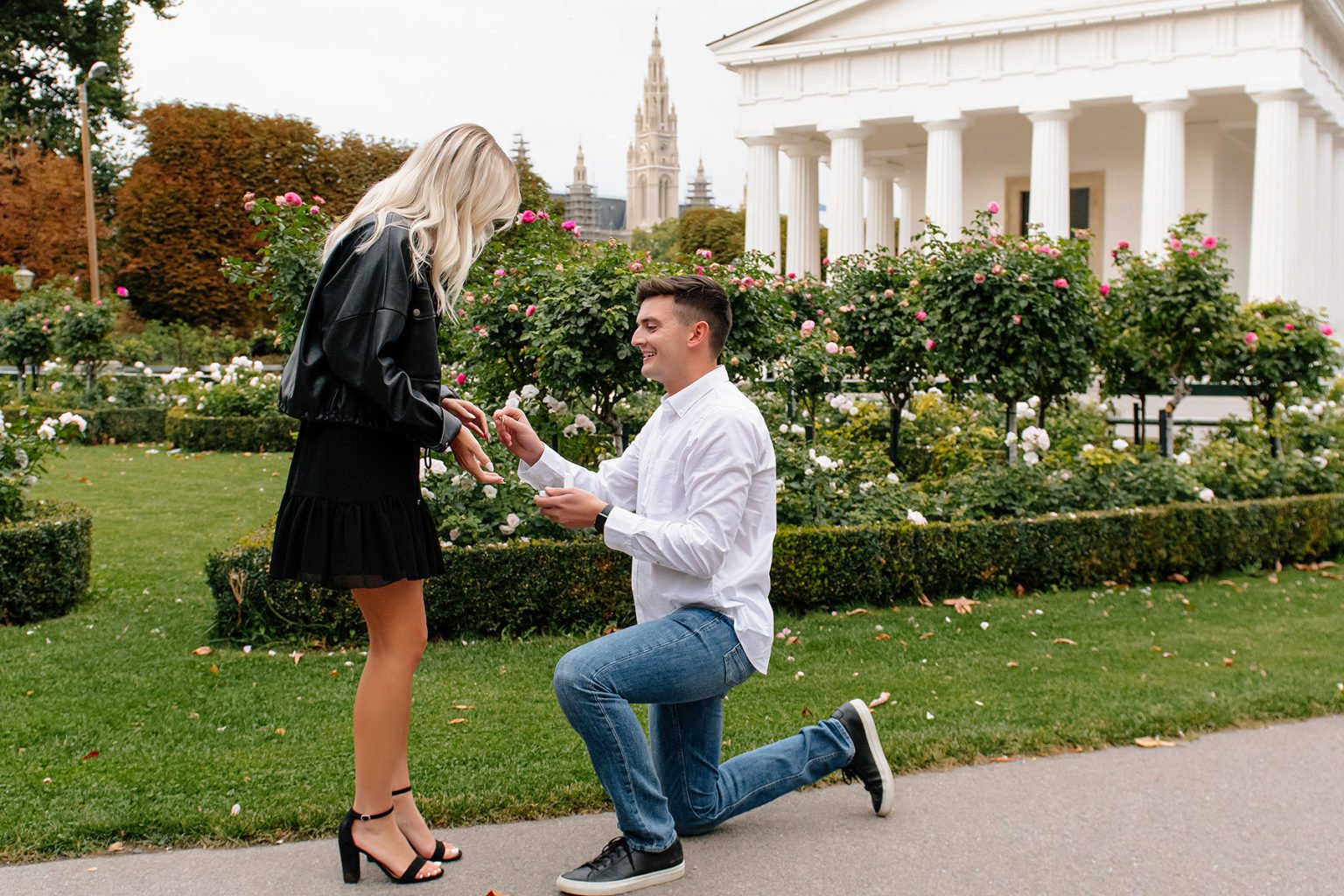 OPTIMAL
350€ 
90 minutes of photography
Assistance in planning locations for a photo shoot
from 120 originals photos JPG (from 3-10 days after shooting)
45 processed photos (color correction, retouching)
Online gallery 
Photo processing time from 7 to 14 days after your choice

MINIMAL
250€ 
60 minutes of photography
Assistance in planning locations for a photo shoot
from 80 originals photos JPG (from 3-10 days after shooting)
30 processed photos (color correction, retouching)
Online gallery 
Photo processing time from 7 to 14 days after your choice